Himachal Tour Package by Car or Tempo Traveler – ITINERARY
Day 1 Shimla -Delhi : Arrival
Our representative will be present on your arrival at Airport or railway station depends upon preference, it will take more than eight hours from Delhi to Shimla by Car. Shimla is home of hills also referred to as "Queen of the hills". At daytime, we will explore nearby places such as the mall, the ridge, and other attractions. Overnight Stay.
Day 2 Manali
Post breakfast we will leave for Manali, upon arrival in Manali, you check-in hotel, have your time eat sleep till evening, after that we will leave for famous Manali attractions among tourists. Stay overnight in Manali.
Day 3 Rohtang Pass
Post breakfast, we leave for Rohtang Pass, which is located 50km from Manali, way from Manali to Rohtang Pass is a breathtaking experience which captivates traveler mind. Rohtang Pass is located at a height of 3,379m, which offer incredible views for mountain landscape. Overnight stay at Manali.
Day 4 Dharamsala
Enjoy your noon tea, after that we will leave for Dharamsala home to famous attraction situated at heart of Himalaya. One of the famous attractions is the Tibetan Medical Center of Cancer. Then we will visit the church of St.John. Stay overnight at Dharamsala.
Day 5 Dalhousie
Post tasty breakfast, get ready for next adventure in Dalhousie. The city consists of famous attraction like Panchpula, Subhash Baoli named after Subhash bose the freedom fighter and Bara Pathar a deity temple dedicated to Bhulwani temple, Overnight stay at Dalhousie.
Day 6 Chandigarh: Departure
Next day is departure time, we will leave for the Airport or Railway according to your travel preference for reaching Delhi.
Like Our Facebook Page @maharanacabs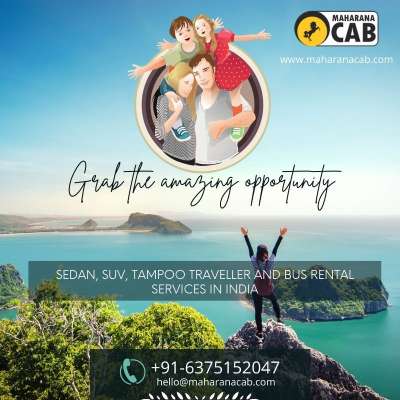 Contact Us on +91 6375152047 | +91 8740845526