Bus Rental in Jaipur
We Provide Deluxe Bus, Luxury Ac & Non Bus, Volvo Bus, Group tours, corporate bus, school/college trip, wedding bus at best price in Your City.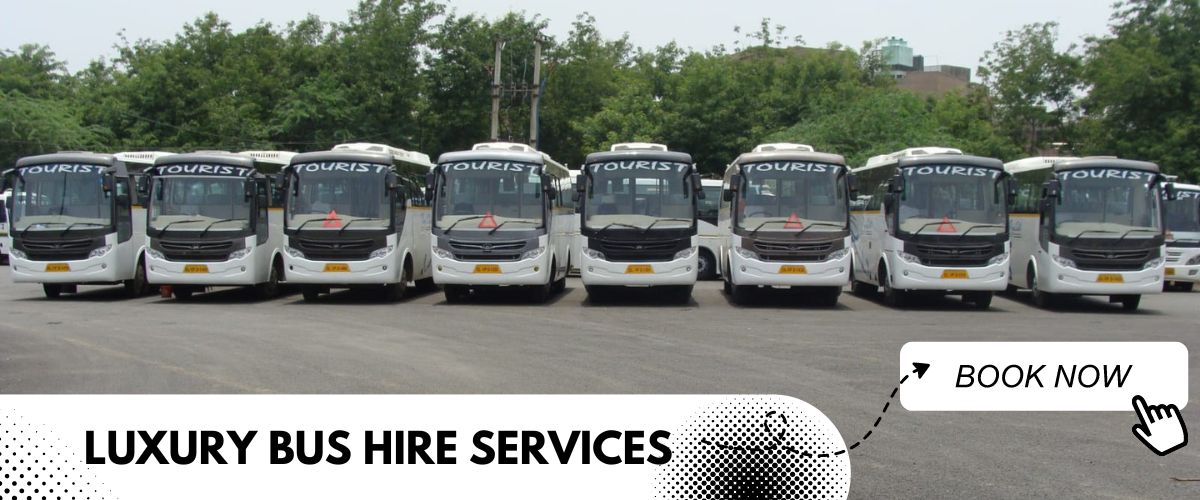 Bus Rental & Hire Services Jaipur
If you are planning to hire bus in Jaipur for local Jaipur city transportation like wedding, event, airport photo/drop or travel from Jaipur to any city, temples of Rajasthan and other amazing destinations.
As Maharana Cabs/Bus Rental Service has AC/Non AC buses for all occasions, you can book Our bus rental in Jaipur when you are traveling with large number of people and golden triangle tour Whether you are doing or traveling a long distance like Rajasthan Yatra.
View our Services & luxuries Facilities:
In our services, we are clean and tidy with buses and luxurious comfort as well as our first aid kit.
We provide you bus rental services for holiday packages like Shimla and Manali tour, Maharana Cab Bus Rental Jaipur provides you a flexible range of buses ranging from 18-seater to 56-seater, Volvo bus and luxury bus .
We provide Jaipur bus hire services for local, outstation and sightseeing in Jaipur. If you are deciding to go on a holiday with your family or groups, you can choose our bus on hire service in Jaipur for an affordable and memorable journey.
These buses are available in AC/Non AC and the Charges are Set according to Their Luxuries. Our services are not limited to Jaipur only but also for outstation purposes. So, stop thinking now and book your bus for the best and memorable travel trip. If you are looking to hire luxury bus in Jaipur for wedding or travel purposes then you are at right place as we provide best bus hire Jaipur service.
Hire Luxury Bus Rental Jaipur –  Specifications
We take care of your comfort with the comfortable recliner seats having the push back seats for the Jaipur sightseeing, School/ College trips, for wedding guests and for many purposes. We would offer the 18 seated Ac Super Deluxe Bus to complete your trip for many purpose.
You can book bus rental in jaipur to make your trips complete with maharana cabs. Hence you can book our services from anytime and from anywhere. We provide a driver and bus attendant along with our bus, so you can enjoy your tour.
Maharana Cabs provide AC & Non AC Bus Rental in Jaipur, Mercedes Benz Bus, Luxury Volvo Bus at best price in jaipur.
We are providing 20 seated Ac deluxe bus, our service comes with state-of-the-art features offering total comfort and luxury. Competitive price, bus rental in jaipur offers value for money. Having a number of India-specific features, the bus has always been liked by Indian consumers.
Our  bus booking online services is not  location specific. You can book our services online from anywhere and be assured for quality services.
We provide a driver and bus attendant along with our bus, so you can enjoy your tour.
We provide AC & Non AC Bus Rental in Jaipur, Mercedes Benz Bus, Luxury Volvo Bus at best price in your city.
Bus Rent Hire Jaipur - Maharana Cabs
Rated
5.0
/5 based on
2577
reviews
Many type of Seater Buses Provide Maharana Cab
We are offering the large collection of the buses that are varying in sizes, seating capacity and luxury features. As per the requirement and the budget customer is able to select the desired vehicle from our exclusive range that fits your requirement and needs. Below mentioned is our bus fleet in Jaipur includes:
Hire Mini Bus on Rent in Jaipur
When we are planning a tour for the small group then for that purpose mini buses are efficient. It includes the seating capacity of the 8-30 passengers. We are providing the different types of the luxury mini buses in the multiple sizes. It is the best option for the people who are travelling in the small groups.
Looking for budget 18 seater minibus, 19 Seater Minibus, 20 Seater Minibus, 21 Seater Minibus, 22 Seater Minibus, 23 Seater Minibus, 25 Seater Minibus, 27 Seater Minibus, 30 Seater Minibus/coach rent from Jaipur Rajasthan ? Book now mini bus rental in jaipur with Maharana Cab call at +91-6375152047 (Tushar) office Address: . Jagdamba Colony B, Jaisinghpura Khor, Jaipur, Rajasthan 302036, India Branch : 54, Opp BSNL Office, Near Bharat Petroleum Pump, Ghat Gate, Jaipur, Rajasthan 302003 Direction MAP [e-mail] : maharanacab@gmail.com
WHY CHOOSE MAHARANA CAB
Over a decade of experience in the travel industry.
Offers customized tour and travel packages according to customers needs and budget.
Transparency in terms of price. Provides upfront pricing with no hidden charges.
24*7 customer support during the trip to make the journey uninterrupted.

Trusted Brand
The bus rental service offered by Maharana Cab  is done keeping in mind the safety and comfort of the customers, which strengthens their trust in us. The trust of customers makes us the most trusted brand in India.
24x7 Support
Maharana Cab provides 24*7 customer support service to its customers. Our customer support is available 24*7 to solve your problems. Where all your problems are solved in a professional manner.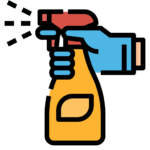 Clean Sanitized Bus
Our bus is completely cleaned and sanitized so that the customer gets good vibes. Also, our drivers follow the guidelines of Covid completely. Along with the bus, our staff also takes full care of hygiene and cleanliness.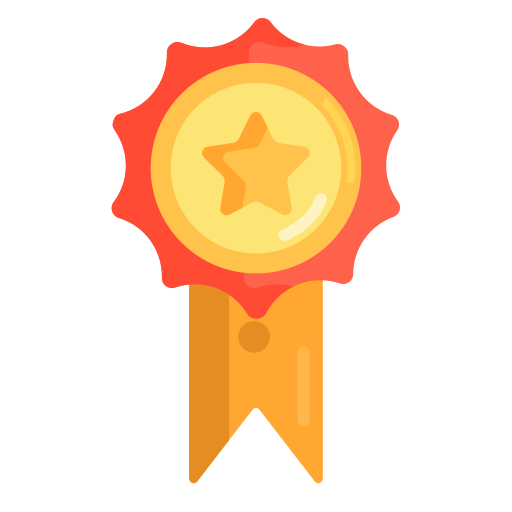 Top Rated Service
The services provided by Maharana Cab  are always top-rated by Facebook, Google . In  which we take full care of the safety and comfort of our customers is  always our first priority.
Bus on Rent for Various Purposes With Maharana Cab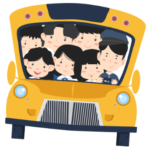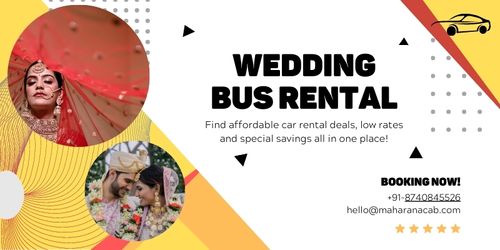 Bus Hire for Wedding in Jaipur
We all know that during the time of the weddings and the grand family functions there are large number of the guests.Buses are required in every wedding to resolve the transportation problem to visit the venue or hotel, booking the suitable bus is the most efficient and affordable option and safe too.
Bus Hire for Corporate Meeting/ Trips
You can hire us for conferences, company picnics, to the airport pick up and drop off. We always aim to provide the best corporate travel solutions. Maharana Cabs serves the corporate houses with the best luxury AC buses to carry out the travel of company staff members to their desired destination in utmost comfort.
Bus Hire for Local Sightseeing
Are you one of them who are looking to enjoy the family trip and want to experience the rich beauty and culture of the Jaipur. This is one of the best ways to explore the beautiful and eyewitness places of Jaipur. We are providing multiple options to make your journey memorable and fantastic.
Bus Hire for Outstation in Jaipur
To complete your outstation trip from jaipur we are providing bus rental services in Jaipur. It will make your outstation trip complete and memorable. If you are planning to have the outstation trip in jaipur and do not want to face any difficulty during the time of the travelling then the best option is to hire the bus rental in jaipur. It will make your journey easy and comfortable.
Bus Rental Fares in Jaipur
If you are planning to travel in jaipur then hire bus in jaipur. It will easily make your journey comfortable and hassle-free. We are providing the wide range of the buses that are available on the rent at the best and suitable prices. A traveler can select the suitable model from our buses fleets. As per the needs and the requirements you can select the bus model. You can compare our bus fares in jaipur with another one, as per your preferences as well as budget. Our bus fares in jaipur are affordable and suitable that will definitely ensure worth for your money.
-:Rate Charts are as follows:-
| Bus Model | AC (Per KM Fare) | Non AC Fare (Per KM Fare) | Local charges |
| --- | --- | --- | --- |
| 18 Seater Mini Bus on Rent | 30 | 28 | 4500/- |
| 20 Seater Mini Bus on Rent | 32 | 30 | 5000/- |
| 22 Seater Mini Bus on Rent | 34 | 32 | 5000/- |
| 27 Seater Mini Bus on Rent | 36 | 34 | 6000/- |
| 30 Seater Bus on Rent | 38 | 36 | 6500/- |
| 35 Seater Bus on Rent | 42 | 40 | 7000/- |
| 40 Seater Bus on Rent | 48 | 45 | 7500/- |
| 45 Seater Bus on Rent | 50 | 47 | 7500/- |
| 50 Seater Bus on Rent | 52 | 48 | 8000/- |
| 52 Seater Bus on Rent | 53 | 48 | 8000/- |
| 56 Seater Bus on Rent | 55 | 50 | 8500/- |
Jaipur Bus Rental FAQ:
Question : I want to see the bus before booking, is it possible ?
It is possible to arrange a viewing of the bus before making a booking. Please contact our customer service team to discuss arrangements for viewing the vehicle.
Question : What safety regulations apply on the bus ?
Passengers should always follow safety regulations on the bus to ensure their safety and the safety of other passengers. This includes wearing a seatbelt if available, keeping all hands and objects inside the bus and avoiding distracting the driver. Additionally, passengers should stay seated while the bus is in motion and use handrails when boarding or exiting the bus.
Question : What are the payment procedure of booking a bus from you ?
Payment for bus bookings can be made through various methods such as credit cards, debit cards, internet banking, wallets, or UPI. We provide secure payment gateways on our website that use encryption technology to protect your payment information. Choose the convenient payment mode and complete the transactions in a few easy steps.
What are the information do I need in order to make a booking ?
You will need to provide your full name, contact information (phone number and email address), payment credentials, and the dates you wish to book for. It is also important to have an understanding of any relevant policies, terms, and information provided by the company before making a booking.
What is your cancellation policy ?
We have a flexible cancellation policy, which may vary depending on the type of service you have booked with us. Please check the terms and conditions on our website or contact our customer support team for more details. Irrespective of the bookings, we always try to facilitate our customers and ensure that our policy helps not to disappoint our customers in any way.
Contact Us on +91 6375152047 | +91 8740845526