Maharaja Tempo Traveller in Jaipur
If you are a passionate and adoring traveller and would like or desire to visit any destination within India with your loved ones, maharaja tempo traveller is an ultimate option that you can look for. Maharaja tempo traveller is by and large used for family and group tours and a heritage cab is the finest selection for soothe and comfort endeavor. Their motive is to providing a better and luxurious comfort to their customers and is to fulfill their requirements with the entity of heartening the basis for home-grown travel industry.
Maharaja tempo traveller are accessible at moderate rates, tempo traveler hires in Jaipur per km price are one of the optimum decisions with looks upon to going at economically savoir-faire costs these tempo travelers are most excellent made for a extensive range of shafts in India given adept driver.
The strategies and aim of maharaja tempo traveller are to provide their services with honesty and imaginative business rehearses. They are providing guarantee each and every stream which is made by then is with the motive for giving better satisfaction to their customers.
For the people's who want to enjoy the entire experience of a road trip in Rajasthan and in India for them, Maharaja Tempo Traveller is the just right option. A Maharaja Tempo Traveller is 9 seater tempo travellers and has all the facilities which one needs for a comfortable ride. Like:
Book/ hire Maharaja tempo traveller & experience the best facilities:
All sofa set
Tinted glasses
LED TV and AC on all sofa seats
Charging facilities on all sofa set
Extra luggage space
Silent engine 
All these at Rs 22 per km rate, Call our manager Mr. Tushar at +91-6375152047 & Facebok on @maharanacabs to book a Maharaja now.
If you are travelling with your family or friends or more than 20 people of group, then no need to suffer in 2-3 transportation. Book bus rental in Jaipur with maharana cabs. We are offering 18 to 56 seater bus from jaipur. You can book bus rental in jaipur for many purposes like wedding, educational trip, picnic and so on. For more information feel free to contact at +91-6375152047.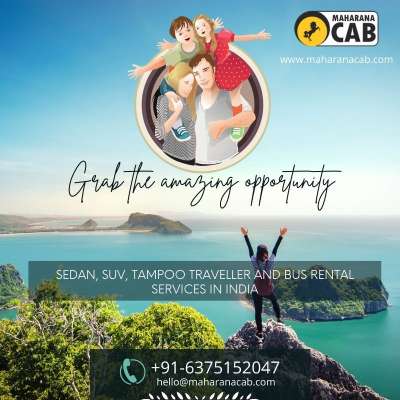 Contact Us on +91 6375152047 | +91 8740845526