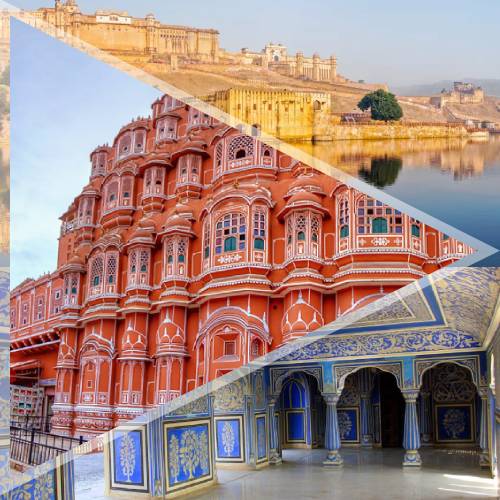 Jaipur is a city which is famous for its forts and the palaces. Jaipur is the capital of the princely state Rajasthan. It is also known as Pink City and Gulabi Nagri. Among all the tourists jaipur is famous for its forts, palaces and old temples. Each and every part of the walled city is the worth exploring and worth capturing. In the Jaipur city the old buildings and the historical monuments have been preserved and maintained so well and beautifully that to visits jaipur is be like visiting to the history. We are providing the Jaipur Sightseeing Tour Package for the travelers who are looking for it.
Among all the popular and must visited tourist places of India Jaipur holds a distinct position. The reason behind it is the immortal royal vibes that are totally inseparable part of its existence. The main attractions for the tourist in the jaipur are: Amber Fort, Nahargarh Fort and Jaigarh Fort. On the other hand among many other must visit places in Jaipur are Albert Hall Musueum, Jal Mahal and Jantar Mantar which holds and special spots as every bit of them reflects the presence of the royalness in this beautiful pink city.
Jaipur Sightseeing With Maharana Cab
If you are planning to visit the best places in Jaipur or planning to avail Jaipur Sightseeing Tour package then you can go with choosing Maharana Cabs. Because Maharana Cab is one of the best service providers of the car rental, tempo traveler and bus rental. They have 200+ positive Google reviews for their best and quality service. Maharana Cab is always at your service and aware on his social media. For quick response and enquires they are aware on social media on a regular basis. You can visit their social media accounts (Twitter, Instagram, Pinterest, and Facebook) to know the current offers or to know upcoming offers. More than 10 cabs are booking daily in Jaipur city and passengers are getting very good service and they have more than 10 Rajasthan tours every month. So let's start the journey by knowing must visiting places of Jaipur City.
Checkout the below mention Jaipur Sightseeing tours:
What we cover in Jaipur City Tours:
Jaipur Darshan by Car in One Day
Cab service for Night Tour of Jaipur
Jaipur Ajmer Sightseeing Tour by Car
Charges of Jaipur Sightseeing Tour: