Jaipur Sightseeing Taxi Hire in Jaipur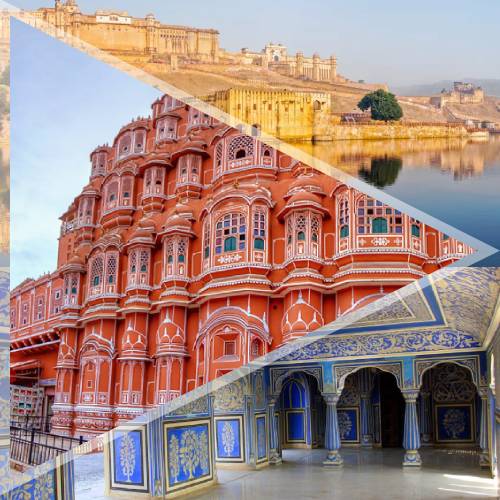 Jaipur is a city which is famous for its forts and the palaces. Jaipur is the capital of the princely state Rajasthan. It is also known as Pink City and Gulabi Nagri. Among all the tourists jaipur is famous for its forts, palaces and old temples. Each and every part of the walled city is the worth exploring and worth capturing. In the Jaipur city the old buildings and the historical monuments have been preserved and maintained so well and beautifully that to visits jaipur is be like visiting to the history. We are providing the Jaipur Sightseeing Tour Package for the travelers who are looking for it.
Among all the popular and must visited tourist places of India Jaipur holds a distinct position. The reason behind it is the immortal royal vibes that are totally inseparable part of its existence. The main attractions for the tourist in the jaipur are: Amber Fort, Nahargarh Fort and Jaigarh Fort. On the other hand among many other must visit places in Jaipur are Albert Hall Musueum, Jal Mahal and Jantar Mantar which holds and special spots as every bit of them reflects the presence of the royalness in this beautiful pink city.
Jaipur Sightseeing With Maharana Cab
If you are planning to visit the best places in Jaipur or planning to avail Jaipur Sightseeing Tour package then you can go with choosing Maharana Cabs. Because Maharana Cab is one of the best service providers of the car rental, tempo traveler and bus rental. They have 200+ positive Google reviews for their best and quality service. Maharana Cab is always at your service and aware on his social media. For quick response and enquires they are aware on social media on a regular basis. You can visit their social media accounts (Twitter, Instagram, Pinterest, and Facebook) to know the current offers or to know upcoming offers. More than 10 cabs are booking daily in Jaipur city and passengers are getting very good service and they have more than 10 Rajasthan tours every month. So let's start the journey by knowing must visiting places of Jaipur City.
Checkout the below mention Jaipur Sightseeing tours:
What we cover in Jaipur City Tours:
Jaipur Darshan by Car in One Day
Cab service for Night Tour of Jaipur
Jaipur Ajmer Sightseeing Tour by Car
Charges of Jaipur Sightseeing Tour:
15 Best Tourist Places to Visit in Jaipur
Below mentioned are four best of the Jaipur tourist destinations
City Palace, Jaipur
City Palace is the popular historical place in the Jaipur. In contrast, the city palace is describing its beautiful architecture and culture.
Hawa Mahal, Jaipur
The Hawa Mahal is constructed by Maharaja Sawai Pratap Singh in the year 1747.  Even more, Hawa Mahal is one of the major attractions of the Jaipur. This beautiful Mahal is also known as "Wind Palace".
Amber Fort, Jaipur
Amer Fort is known as one of the most attractive forts of the Jaipur city. Amber fort is counted in one of those historic places in the Jaipur that traveler should not miss it. Amber Fort is constructed by the Sawai Jai Singh and represents the great example of the architecture and interior.
Jal Mahal, Jaipur
Jal Mahal is situated in the middle center of the Lake Sagar. The surroundings of the water palace are very peaceful and splendid.
Call me (Tushar) at +91-6375152047 for more details
You can also fill the contact form, below Jaipur City Tour.
Destinations we cover in One Day Jaipur Sightseeing Tour
If you looking for a quick tour to Jaipur city then check out Destinations we cover in One Day Jaipur Sightseeing Tour and explore the best of the Jaipur.
One Day Jaipur Darshan by Car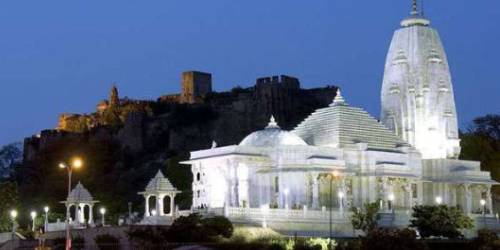 Jaipur is known as one of the royal city in India. Jaipur is famous for its colorful culture and the bright sight destinations. Due to the busy schedule people are not able to explore all the destinations. And there is very little time in the hand and too many places to visit. We are providing one day jaipur darshan by car. So you will able to explore from forts to havelis, palaces to the temples, there is much to see and explore in the pink city jaipur. With the help of this package you can explore jaipur sightseeing places in our AC cab with the driver in 8 hours. You will visit all the famous attractions and the tourist sites at Jaipur at the fare of:
Jaipur Night Tour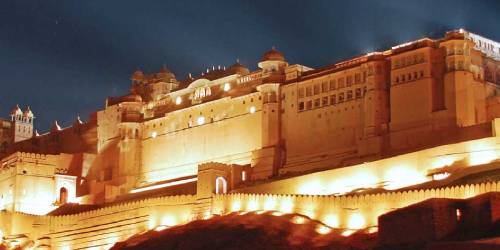 Jaipur is the capital of the princely state Rajasthan. It is the beautiful and wonderful city in the day but it is even more beautiful at the night time. If you want to experience monuments, palaces and the old streets of the Jaipur city then it is good to experienced it at the night time. Consequently, the monuments and the palaces are closed at the night time but you can still witness its beauty from outside. We are providing Jaipur Night tour in which you will able to visit some of the stunning and brilliant tourist sites which open after the 6:00 pm like:  Check the best sound & the light show at Amber fort, Chokhi Dhani, Nahargarh sunset point and etc.
Fare of Jaipur Night Tour: Rs.1200 for Sedan AC Car
Jaipur Darshan by Bus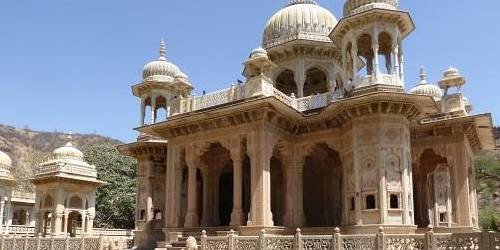 Explore the beautiful sightseeing places of jaipur by planning a tour on budget with our 8 hour Jaipur city bus tour. It starts from the 9:30 am to the 5:30 pm. Bus is a convenient mode of the travel while planning to commuting the Jaipur darshan by bus. Therefore the time taken to complete the journey of bus is depends on the traffic, roads and on the climate conditions. By our this one day jaipur darshan by bus you will able to visit the sites like: Rajmandir Cinema, Birla Temple, Ram Niwas Garden, Central Museum, Jaipur City Palace, Royal Gaitor, Amber Fort, Kanak Vrindavan Garden, Hawa Mahal and the Jal Mahal. Below mention is the fare of the bus:
Rs 200/- Open Canter &  200/- Double Decker Bus
Rs 300: Double Decker AC Bus
Jaipur Darshan Individual Bus Charges 300 /- (private group tour )
Note :   ✓ Parking charges will be extra  ✓  Nahargarh or Jaigarh Hill charges will be Extra
Call me (Tushar) at +91-6375152047 for more details
You can also fill the contact form, below Jaipur City Tour.
Destinations we cover in Two Days Jaipur Sightseeing Packages
Two days Jaipur sightseeing by Cab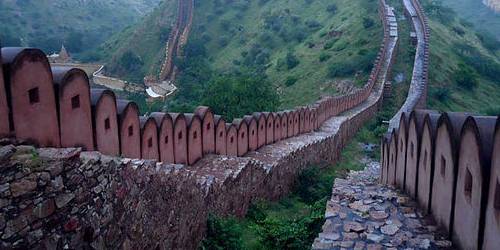 An incredible fare of our 2 days to enjoy or for to explore to your favorite destination, landmark, popular food sites, markets of the Jaipur city
Rs 3200 in Sedan Cab
Rs 4000 in Innova Cab
For more details call at +91-63751 52047
Two Days Jaipur Agra Sightseeing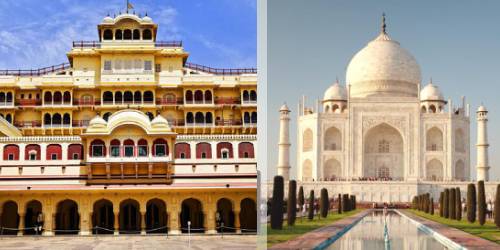 Trip of Agra to Jaipur is just an in distance of four hours so can also make a plan to explore Agra with us.
You will also visit Fatehpur Sikri, Chand Baori on this trip & will be back in Jaipur on day 2 nights.
Two Days Jaipur Ajmer Pushkar
Jaipur Bhangarh Bharatpur Tour
Another suggested 2 days trip of Jaipur tour a one complete day for a trip of:
Bhangarh Fort and Bharatpur that is famous for the Keoladeo national park which is also known as Bharatpur bird sanctuary.
Rs 7500 in Sedan Cab
Rs 9000 in Innova Cab
For more details call at +91-63751 52047
Jaipur Ranthambore tour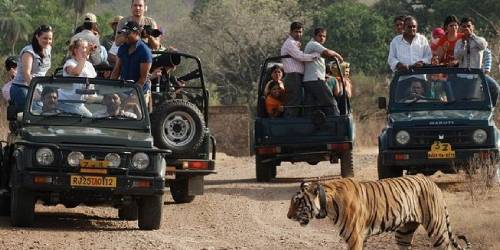 You can also opt and make a plan of 2-3 days to explore the Ranthambore National Park which is only 190 km away from Jaipur where:
Day 1 & 2, Jaipur sightseeing
Day 2 nights, arrive in Ranthambore
Get confirmed Ranthambore safari tickets
Day 3, tiger safari tour & back in Jaipur by night
Jaipur Chand Baori tour
Step ahead with Jaipur sightseeing make a plan also in return trip Chand Baori stepwell which is 100 km drive from Jaipur.
In this tour, we suggest for Jaipur sightseeing & day 2 for a tour of: Galta Monkey Temple, Sisodia Rani Bagh & Chand Baori.
Rs 4000 in Sedan Cab
Rs 5500 in Innova Cab