Maharana Cabs Provides Budget Rajasthan Tour
Maharana Cab is providing a chance to explorers to explore the princely state Rajasthan. The Royal state Rajasthan is a complete delightful package of romance, royalty, spirituality, Thar desert, shopping destinations which are consists of the Gulabi Nagri/ Pink City Jaipur, Golden City Jaisalmer, a city full of blue streets: Jodhpur, City of Lakes Udaipur, Holy and peaceful city of Pushkar, City of Tigers Ranthambore, all these incredible places makes a Rajasthan Tour package complete and exciting. Are you planning to experience the royalty of Rajasthan by visiting all the incredible cities?
We are providing full Rajasthan tour package with some of the detailed Rajasthan tour itineraries which are based on the most demanding and the travel routes of the fascinating destinations of the Rajasthan. As per your requirements, you can personalize the travel itineraries. With the help of this tour package, we mainly focus on the top major focus of the Rajasthan. The land of Rajasthan has a bundle of historical stories which you can experience in the forts, palaces and in the Havelis.
Plan a Rajasthan tour and add enjoyable experience in your journey with us. Collect the memories of the colorful culture of Rajasthan and get the answers to your questions that why this state is considered as a royal state. Check out our Rajasthan Tour package and feel the lifestyle of Royal City.
Visit Royal Rajasthan by our 5 nights and 6 days Rajasthan tour, explore monuments, forts and villas, experience the century old culture and practices. With our tour Package explore Jaipur, Jodhpur, and Udaipur which are tourist hub of Rajasthan
Note: This is the standard Itenary for most of the tourist, If you want something different, we can make custom made itinerary for your needs contact us by call or fill the form.
Trip Exciting Highlights
 Enjoy the famous ride in Amer Fort, Jaipur
 Explore the handicrafts and jewelry shops in the local market of Jaipur
 Explore the century-old Mehrangarh Fort, Jodhpur
 Experience the religious vibe at Jain temples, Ranakpur
 Enjoy the best weather at Lake Palace, Lake Pichola and Jagdish Temple, Udaipur
JAIPUR with JAISALMER, UDAIPUR
Duration: 6 nights\ 7 days
Sedan car rental: Rs 15750
Innova car rental: Rs 19250
For better deal, call at +91- 6375152047 
To explore the pink city of Rajasthan, Jaipur sightseeing by the road you must give a minimum 2 nights each for Jaipur, Udaipur and Jaisalmer.
In this 6 nights\ 7 days trip of Rajasthan starting from the Jaipur, you will:
Arrive in Jaipur on day 1
2 nights in jaipur
2 nights in Jaisalmer
2 nights in Udaipur
Departure from Udaipur on Day 7
Jaipur, Jodhpur, Jaisalmer & Udaipur
Duration: 7night \8 days
Sedan car rental: Rs 18000
Innova car rental: Rs 22000
For better deal, call at +91- 6375152047 
With the trip of Jaipur, jaisalmer, udaipur , add a night stay at jodhpur, famous for Mahrangarh fort & umaid Bhawan palace. In this 7 nights \8 days Rajasthan tour by the car, you will:
Arrival on Jaipur on day 1
2 nights in Jaipur
1 nights in jodhpur
2 nights in jaisalmer
2 nights in Udaipur
Departure from Udaipur on day 8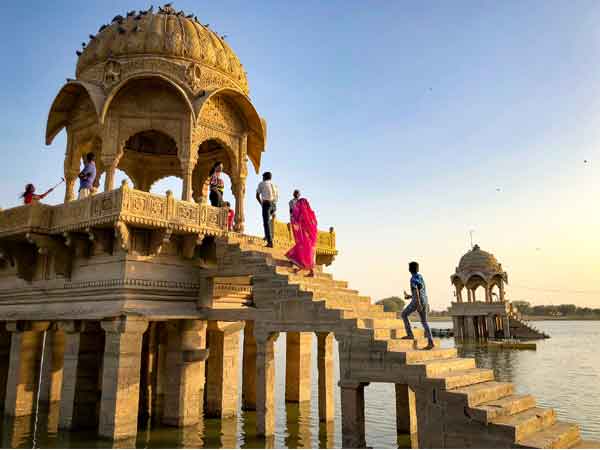 Jaipur, Bikaner, Jaisalmer, Jodhpur & Udaipur
Duration : 8 nights \9 days
Sedan car rental: Rs 20950
Innova car rental: Rs 24750
For better deal, call at +91- 6375152047 
In this 8 nights\ 9 days Rajasthan tour by car from jaipur, you will also expore the boundaries , ornate building and halls ,traditional textiles and royal portraits of the Bikaner city for 1 day along with jaipur, jaisalmer, & Udaipur. The prescribed tour plan is:
Arrival on jaipur
2 nights in jaipur
1 night in Bikaner
2 nights in jaisalmer
1 night in jodhpur
2 nights in Udaipur
Departure from udaipur on day 9
Contact Us on +91 6375152047 | +91 8740845526
Articles to Read Before Your Journey